Key Information
Destination: National Basketball Performance Centre, Belle Vue, Manchester
Dates: February 17th - 18th 2020
Players and Supporters: 40 Players (U15 Boys & Girls)
Coaches: 12 Coaches and Staff
Cost: £50 Per Player
Tour Overview
We are pleased to present you with the information page for the February Half Term England Talent Programme U15 camp in Manchester, England. The camp includes:
on court sessions – led by the ETP coaches
off court education sessions – covering a number of different elements that support talented athletes
2 days/1 night accommodation at a Manchester hotel in close proximity to the arena
transport to and from the hotel and arena
all breakfast, lunch and dinner
a BTM rep present throughout the camp to support the ETP coaching staff
On this page you will find more detailed information on the elements of the camp. Please note this is an initial assessment camp and it is intended to select 16 players for the remainder of the U15 ETP program.
Flight Details
Not Applicable
Accommodation
Your accommodation for the Monday night is provided by:
Travelodge Manchester Central Arena, a hotel located close to the centre of Manchester
Rooming is based on shared accommodation in triple or occasionally twin rooms.
Travelodge Website.
Payment Plan
The camp payment plan is as follows:
£50 payment by 31st January 2020
Itinerary
The camp includes on-court sessions led by the ETP coaches, off-court education sessions which cover a number of different elements that support talented athletes and scrimmages/games Players will stay at a local hotels and be provided breakfast, lunch and dinner for the duration of their stay.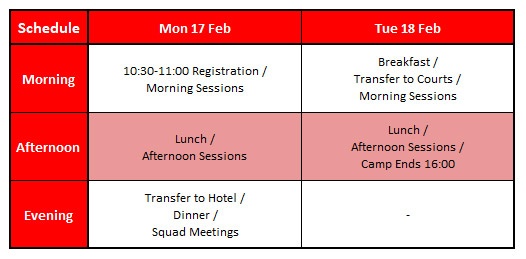 What to Bring
Please make sure you bring with you to camp:
2x Playing Kits, including your Aspire tops and any other reversible tops
4x Pairs of Socks/Underwear
Basketball Boots
A foam roller
A Water Bottle
Casual Clothes for the Evening
Toiletries
Healthy snacks
We are happy for players to bring mobile phones and other devices at your own responsibility.
Other Notes
Camp registration is between 10:30 - 11:00 on Monday 17th February at the National Basketball performance Centre, Kirkmanshulme Ln, Manchester M12 5QN. Please be prompt.
Next Steps
We hope you are excited about your son/daughter taking part in the England Talent Programme February '20 Camp
If you're unable to attend this camp please email your England Team Manager or Charlie Ford at [email protected]