Key Information
Destination: Tres Cantos, Madrid
Dates: Thursday 22nd - Monday 26th April 2021
Players and Supporters: 20 Players
Coaches: 3 Staff
Cost: £745 Per Player
Tour Overview
We are pleased to present you with the information page for the Bristol MET Tour to Madrid. The tour will offer the players challenging and exciting games against Madrid opposition, intensive skill development opportunities through high-level Spanish guest coaching sessions, and the chance to take part in team training sessions. The basketball is in combination with cultural and leisure activities that will educate and build unity between teammates, coaches and supporters to create an experience of a lifetime. This tour package includes:
management of all pre-tour administration and communications
flights from London to Madrid
airport transfers in Madrid
5 days / 4 nights in a local hotel
all breakfast, lunch and dinner
2 practices/skill clinics and 3 games against quality Spanish opposition
afternoon relaxation at the local pool
excursions to see some of Madrid's sites such as the Bernabeu Stadium, Royal Palace and Retiro Park
watch a professional ACB game (schedule dependent)
a BTM rep with you throughout the tour to ensure the tour runs smoothly and your experience is maximised
On this page you will find more detailed information on the elements of the tour, as well as a slideshow of images and location video that can give you a vision of what to expect from your BTM Basketball tour to Madrid.
Flight Details
You will be flying on:
scheduled flights from London to Madrid.
All players will be restricted to hand luggage only. Coaches will be allowed 1 hold baggage.
Accommodation
Your accommodation is provided by:
a quality hotel located in Tres Cantos, a suburb north of Madrid.
The price is based on shared accommodation in twin or occasionally triple rooms. Single rooms can be requested at an additional cost of £35 per person/per night.
Payment Plan
The tour payment plan is as follows:
£195 deposit per person within 1 week of confirmation of booking
£275 interim payment by 31 October 2020
£275 final balance by 31 January 2021
Itinerary
We offer an exceptional basketball experience in Tres Cantos, where team practices and skill development clinics will be accompanied by challenging games against high-level Spanish opposition. After practices the players will be able to relax at the local pool. The Madrid excursion days will take in some of the top city attractions such as Retiro Park, the Royal Palace and Real Madrid's Bernabeu Stadium and will allow the players to absorb some Spanish culture. We will also look to watch a professional ACB game at one of the Madrid pro stadiums, which will be dependent on league schedules.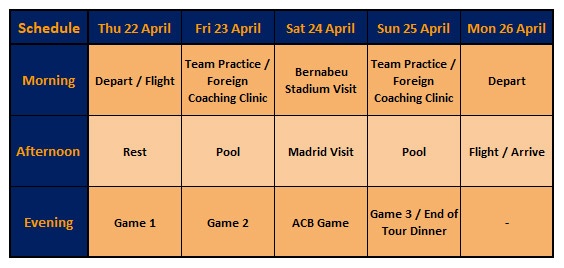 Health & Safety
We ensure the tour is safe and secure by providing:
location specific risk assessments
health & safety processes including traveling, hydration, heat, excursions, accommodation and basketball
tour operator public and employee liability insurance
We are also a UK ATOL licensed tour operator and your tour payments are protected via trust accounts operated by Protected Trust Services (PTS). We have tour operator public and employee liability insurance which ensures your peace of mind with BTM as an organiser.
Next Steps
We hope you are excited about the prospect of you and your Bristol MET Basketball team taking part in the Madrid 2021 Basketball Tour. To register for the tour confirm your interest with Mr. Heesom by March 27th