Key Information
Destination: London, England
Dates: Monday June 20th - Monday June 27th
Players and Supporters: 40 Players + Supporters (4 teams)
Coaches: 2 Coaches per team plus additional support staff
Cost: Players $2997.43, 1st Parent $2497.43, Additional Family Members $1997.43
Tour Overview
We are pleased to present you with the information page for the Pro Skills Basketball tour to London, England in June 2022. The tour will offer the players high-level games against UK opposition, the opportunity to run team practice sessions, cultural & leisure activities that will educate and build unity between teammates and coaches, hotel accommodation near the city center and delicious food to create an experience of a lifetime. This tour package includes:
management of all pre-tour administration and communications
airport transfers and in-tour transport in London
7 days / 6 nights in a London hotel
all breakfast, lunch and dinners
3 team practices and 4 games against high-level junior opposition
sightseeing experiences at London's iconic landmarks such as Buckingham Palace, Big Ben, the London Eye and more
shopping time in the city
a day excursion to Brighton on the South Coast of England
2 Pro Skills coaches per team
a BTM rep with you throughout the tour to ensure the tour runs smoothly and your experience is maximised
This tour package does NOT include:
flights from the US to the UK
individual travel insurance
any COVID testing costs
On this page you will find more detailed information on the elements of the tour, as well as a slideshow of images and location video that can give you a vision of what to expect from your BTM Basketball tour to London.
Flight Details
You will need to organise your own flights and PSB will advise on what flights to purchase in order to coordinate arrival around the same time in the UK to ensure efficient hotel transfers.
Accommodation
Your accommodation is provided by:
A London hotel with good access to key London landmarks and amenities
The price is based on shared accommodation in twin or triple rooms. Single rooms can be requested at additional cost.
Payment Plan
The tour payment plan is as follows:
$900 deposit per person within 2 weeks of confirmation of booking
final balance 3 months before departure
Itinerary
The prospective itinerary includes 3 team practices and 4 games against high-level UK junior opposition. Outside of the basketball we have included several sightseeing opportunities, including world famous city sights such as Buckingham Palace, Big Ben and the London Eye. Our hotel location near the center of London allows for easily accessible opportunities to spend time in the city. We will also spend time in Brighton, one of the UK's most culturally diverse cities based on the South Coast.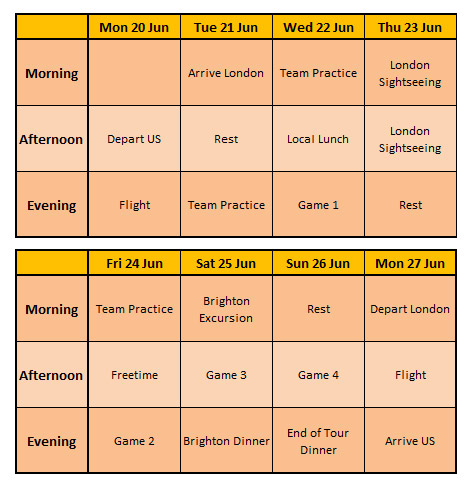 Health & Safety
We ensure the tour is safe and secure by providing:
location specific risk assessments
health & safety processes including traveling, hydration, heat, excursions, accommodation and basketball
tour operator public and employee liability insurance
We are also a UK ATOL licensed tour operator and your tour payments are protected via trust accounts operated by Protected Trust Services (PTS). We have tour operator public and employee liability insurance which ensures your peace of mind with BTM as an organiser.
Next Steps
We hope you are excited about the prospect of you and your PSB Connect team taking part in the London 2022 Basketball Tour. To finalize the details and confirm your tour please contact Coach Antonio Wilburn