Key Information
Destination: Los Angeles, USA
Dates: July 5th - 12th '21
Players and Supporters: 20 Players
Coaches: 3 Coaches
Cost: £1995 per player
Tour Overview
This is the ULTIMATE BASKETBALL TOUR offering players the opportunity to visit the home of basketball, the United States of America, and experience all the best it has to offer. The Richmond Knights tour destination will be Los Angeles, one of the premier centers of basketball activity in the US, where the players will be immersed in the culture of US basketball and live the basketball dream as never before. Players will experience fantastic practice facilities, elite US coaches, competition against high-level US teams in exhibition games and entry into an elite AAU tournament. As well as the basketball, they will take part in some amazing leisure activities such as seeing the bright lights of Hollywood, sightseeing in downtown LA, visiting a US University campus such as UCLA as well as enjoying the great food and service the US offers. This tour is ALL INCLUSIVE, featuring:
flights from London to LAX
US airport transfers and self-drive in tour transport
8 days / 7 nights accommodation in a local hotel
all breakfasts, lunches and dinners
basketball practices, skill clinics and games
entry into an AAU tournament
excursions to a US College campus and to downtown LA
tour hoodie and t-shirt package
travel insurance
a BTM rep with you throughout the tour
Flight Details
Your flights will be:
scheduled flights from London to LAX
The flights will include a cabin bag and a hold bag. All tour participants must organise their own visa. For British passport holders this can be done by obtaining an Electronic System for Travel Authorisation (ESTA). More information can be viewed at the
Official ESTA Website.
Accommodation
Your accommodation is provided by:
US hotel located near Los Angeles
Prices are based on players and supporters sharing twin, triple or quadruple rooms. Single rooms can be requested at an additional cost.
Payment Plan
The tour payment plan is as follows:
£395 deposit with one week of booking
£500 interim payment by 31 October 2020
£500 interim payment by 28 February 2021
£500 final payment by 31 May 2021
Itinerary
This tour itinerary will be full of basketball and leisure activities. The players will have the opportunity to train at some fantastic venues, work with high-level US coaches, compete in exhibition games and play in elite AAU competition In addition to playing basketball they will get the chance to visit a US University such as UCLA, downtown Los Angeles and a US shopping mall, as well as enjoying the delights of US food.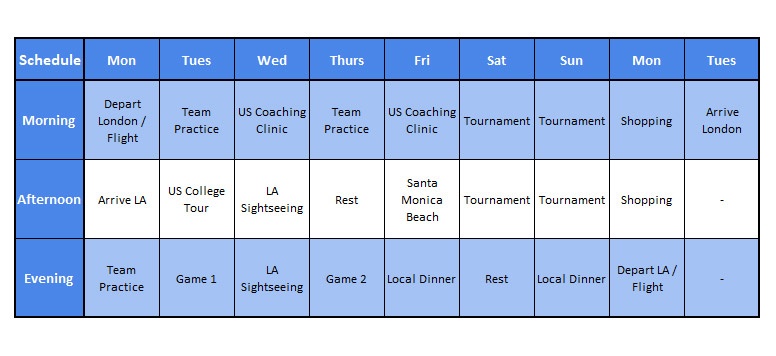 Health & Safety
We ensure the tour is safe and secure by providing:
location specific risk assessments
health & safety processes including traveling, hydration, heat, excursions, accommodation and basketball
first aid procedures and kit requirements
We are an ATOL licensed tour operator and your tour payments are protected via trust accounts operated by Protected Trust Services (PTS). We have tour operator public and employee liability insurance which ensures your peace of mind with BTM as an organiser.
Next Steps
We hope you are excited about the prospect of your Richmond Knights teams touring the US in 2021.
To register for the tour confirm your interest with James Merchant at [email protected]