Key Information
Destination: Oostende, Belgium
Dates: 3rd - 5th June '21
Players and Supporters: 24 Players
Coaches: 5 Coaches and Staff
Cost: £235 Per Player All Inclusive
Tour Overview
We are pleased to present you with the information page for the Sussex Storm tour to Oostende, Belgium. The Oostende tour will offer the players challenging and exciting games against Belgian opposition and the chance to take part in team training sessions. Our partner club BC Oostende and their junior Academy
[email protected]
are one of Belgium's premier programs, regularly developing players that go on to play professionally and feature in the Belgium national teams. The basketball is in combination with cultural and leisure activities that will educate and build unity between teammates, coaches and supporters to create an experience of a lifetime. This tour package includes:
management of all pre-tour administration and communications
3 days / 2 nights in a local hotel
all breakfast, lunch and dinners
games against quality Belgian opposition
team practices
sightseeing and activities in Oostende
a BTM rep with you throughout the tour to ensure the tour runs smoothly and your experience is maximised
On this page you will find more detailed information on the elements of the tour, as well as a slideshow of images and location video that can give you a vision of what to expect from your tour to Belgium.
Transport Details
Transport to / from / around Oostende provided by Storm
Accommodation
Your accommodation is provided by:
a quality hotel located in Oostende
The price is based on shared accommodation in twin or occasionally triple rooms. Single rooms can be requested at an additional cost of £25 per person/per night.
Payment Plan
The tour payment plan is as follows:
£75 deposit per person within 2 weeks of confirmation of booking
£150 final payment by 30 March 2021
Itinerary
We offer an exceptional basketball experience in Oostende, where teams will have the chance to compete against high-level Belgian talent and take part in team training sessions. Teams will be able to take part in local leisure activities and enjoy some interesting sites.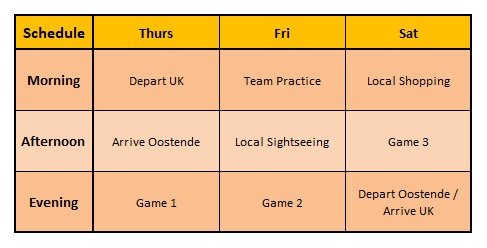 Health & Safety
We ensure the tour is safe and secure by providing:
location specific risk assessments
health & safety processes including traveling, hydration, heat, excursions, accommodation and basketball
tour operator public and employee liability insurance
We are also a UK ATOL licensed tour operator and your tour payments are protected via trust accounts operated by Protected Trust Services (PTS). We have tour operator public and employee liability insurance which ensures your peace of mind with BTM as an organiser.
Next Steps
We hope you are excited about the prospect of your Sussex Storm team taking part in the Belgium 2021 Basketball Tour. To register for the tour confirm your interest with Barney Blake